Your payments processed in a blink.
Deposit and withdraw faster and safer. We've got a whole team making sure of that.
No processing fees
There are no deposit or withdrawal charges at Casumo Canada.
Total peace of mind
Put your mind at rest with our secure payment systems.
Live Blackjack at Casumo
Before you get started:
- Find a table that suits you, considering your budget, the minimum and maximum bets, game rules, and ambience.
- Make sure you know the rules if playing a new game variant.
- As Blackjack is a game of strategy, practice with RNG blackjack before going live.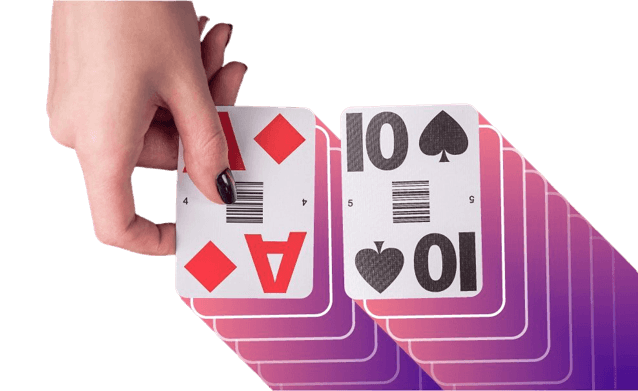 Live Blackjack Game Variants
There's a live blackjack table to suit every player's style and betting budget, from the smooth notes of the classic casino experience in high limit VIP variants to Evolution's more fun variants like Infinite Blackjack.
The aim of the game in the design of Live Blackjack is to deliver the ambience and experience of live casino games but for online players: the rush of laying a bet on a table, the anticipation as the dealer distributes cards, the tension as you decide which moves to make, and the thrill of a winning hand come home. Through live games, everyone can experience the real deal and feel of a brick-and-mortar casino engaging with the dealer as you do.
Each game developer has its take on what an authentic casino includes (from the lighting to the number of tables in a studio, the dealer's demeanour, game rules, and so on). This leads to several different variants and styles of live games. 
While it might sound a little overwhelming, it's not; it simply means you've got a top-notch selection of games to pick from. Here are some of the most popular titles you´ll find in the Casumo Live Blackjack lobby.
Infinite Blackjack: RTP 99.51%
Infinite Blackjack was created by live industry leaders, Evolution Gaming. Played with eight decks, it's infinite because the number of players at the table is not limited. It follows standard blackjack rules with four side bets: Pairs, 21+3, Hot 3, Bust It, and the 6 Card Charlie Rule. 
This game is best for players who don't want to wait for their seat at the table and are looking for lower starting bets. Maximum bets with Infinite Blackjack are usually £5,000, and the maximum payout is 250:1 for winning the Bust It side bet.
Quantum Blackjack: RTP 99.47%
Created by Playtech, Quantum Blackjack delivers a live twist on a classic game with boosted payouts of up to 499:1 and random game multipliers. Played with a community hand (players' view of hand alters depending on their game moves) and eight decks, the number of players is unlimited. A side deck is also used, dealing 1-3 cards with a mystery multiplier attached. Should any player get a matching card, the multiplier is awarded if a win occurs.
First Person Blackjack: RTP: 99.29%

Using superior 3D rendering and an immersive animated environment, First Person Blackjack is a hybrid variant from Evolution Gaming. With Perfect Pairs, 21+3, and bets offered on 1-5 hands, this variant is aimed at those trepidatious players who might feel nervous about taking the live leap. 
First Person Blackjack is the non-live mirrored version of the game that has a "Go Live" button that'll take you straight to the live game. This allows you to get to grips with the game, test out the bet limits and when you're ready, go live for more blackjack action - it's that easy, and bets start from £0.50-1,000 with max payouts of 100:1.
Casumo Exclusive Blackjack Tables
If you're looking for something extra special, then head straight for our Casumo exclusive live dealers. Designed with our player's in mind, we've got a bespoke collection of live dealer tables that'll suit up your gaming style and deliver the live-action you´ve looking for.

Choose one of our very own Casumo Blackjack tables.

Hosted by charming live dealers, Live Blackjack is one of the most popular table games at Casumo Live Casino. Grab a seat at the table, place your bets and get as close to twenty-one as you can. 
Before You Start Playing Live Blackjack
Now you've got everything you need to start playing Live Blackjack, but before you up the stakes and take things live, be sure that you:
Find a table that suits you, considering your budget, the minimum and maximum bets, game rules, and ambience.

Make sure you know the rules if playing a new game variant.

As Blackjack is a game of strategy, practice with RNG blackjack before going live.

Check to see if you can claim a bonus to start playing and increase your bankroll.

A faster, improved gaming experience when playing slots on mobile
How To Play Blackjack: A Quick Guide
When you join a live game of Blackjack, you'll sit at a virtual table facing the dealer. You'll play against the house and your objective is to get a hand that equals or is as close as possible to 21. If at any point during the game the total value of your hand exceeds 21, you'll lose your wager.
The minimum amount you can wager varies according to the table. Usually, minimum bets for Live Blackjack tables start at around €5. After you place your bet, the dealer draws two cards for you, laying them face up in front of your bet on the betting table.
The dealer draws two cards for the house as well, one face up and one face down. After cards are dealt, you must decide whether to 'Hit' or 'Stand'. Hit means asking for another card. Stand means you won't take any more cards.
You can ask for as many cards as you want as long as the total of your cards does not exceed 21. If you do exceed 21, your hand is 'bust', meaning that you've lost that round. Once you stand, the dealer asks other players sitting at the table if they want to stand or hit. Once all the players around the table are satisfied with their hands or have busted, the dealer reveals the hidden card.
The dealer must hit on any total that is 16 or lower and stand on 17 or higher. When the dealer stands, winners are announced. A winning hand is one in which the total of your hand is higher than the dealer's.
If all players have either busted or gotten 'Blackjacks' (21s), the dealer will not complete their hand. But what happens if the total of your cards is exactly equal to the dealer's hand? Well, that's called a 'Push' and you get the money you wagered back. 
Enjoy the experience of our Live Casino with Blackjack, Roulette and more!
Q. Can I play live blackjack for free in the Canada?
Sadly, live tables are not free to play. Unlike other casino games, which have a demo mode, as live dealers have limited numbers of players per table (not all) and a human dealer, the production costs are high, so there's no demo option. 
Q. Is there a minimum bet limit in live blackjack?
The minimum bet in live blackjack is usually around $5, depending on which game you play.
Q. How much does a blackjack pay in live blackjack?
If you score Blackjack, you'll instantly get a payout of 3:2. The exact amount depends on your bet and the table limits.
Q. Can I play live blackjack on mobile?
Yes! With our smooth mobile service, you can play blackjack live from any device, that's your computer, mobile phone, and tablet! Simply log into your Casumo account and click play to get started!