Playing Live Roulette is one of the most interesting casino choices you can make. Feel the beat of the ball as it bounces and the wheel turns, engage with the dealer as you place a bet, and experience the real casino deal on demand.
Live dealers create a more authentic experience for online players than ever before. Specifically designed to deliver the real feel of a brick-and-mortar casino, Roulette variants don't get better than the options you'll find when exploring Casumo's game lobby.
With a vast range of variants and limits, plus the best titles from Evolution and Playtech, opting for Live Roulette at Casumo is a guaranteed way to bring home the action. And if that's not enough to pique your interest, then our stock of exclusive live roulette tables will seal the deal.
How To Play Live Roulette
When you think of a casino, one of the first things you think of is the image of the spinning roulette wheel as a crowd gathers to watch a small white ball land in one of the pockets. Where will it land? It's anybody's guess.
At Casumo, you can head over to our Live Casino for a chance to play a wide variety of live roulette games. There, a croupier is streaming live as he or she waits for players to make their bets. When betting time is up, the croupier tosses the ball into the roulette wheel. 
The pockets, or small squares where the ball can land, are all labelled with black or red numbers except for the green zero. Players bet on individual numbers or groups of numbers such as even, red, or of the columns on the roulette table. 
The European Roulette wheel features 37 pockets, including the red and black numbers 1-36, and a single green zero pocket. American Roulette, on the other hand, has an additional green pocket with a double zero.
The clockwise sequence of numbers on the European Roulette wheel is the following:
0, 32, 15, 19, 4, 21, 2, 25, 17, 34, 6, 27, 13, 36, 11, 30, 8, 23, 10, 5, 24, 16, 33, 1, 20, 14, 31, 9, 22, 18, 29, 7, 28, 12, 35, 3, 26.

Before the croupier spins the wheel, players have a chance to place their chips on the betting grid interface. The two main sections of the roulette table on which the bets are placed are the 'inside section' and the 'outside section'.
The inside section offers bets on individual numbers or groups of up to six adjacent numbers. The different bets have specific names, odds, and standard payouts. Please note that at Casumo we offer roulette variants with different payouts than those found below. 
Any single number

Payout is 35:1

European roulette odds: 2.7%

American roulette odds: 2.6%
Any two numbers

Payout is 17:1

European roulette odds: 5.4%

American roulette odds: 5.3%
Any three numbers on the same row of the table, i.e. 19, 20, 21

Payout is 11:1

European roulette odds: 8.1%

American roulette odds: 7.9%
Four numbers that form a square on the table, i.e. 13,14,16,17

Payout is 8:1

European roulette odds: 10.8%

American roulette odds: 10.5%
Six numbers on two adjacent rows (also called a Double Street)

Payout is 5:1

European roulette odds: 16.2%

American roulette odds: 15.8%
The outside section contains pairs of bets based on colour or the type of number. Outside bets have better odds than inside bets but with a lower payout. 
Payout is 1:1

European roulette odds: 48.6%

American roulette odds: 47.4%
Payout is 1:1

European roulette odds: 48.6%

American roulette odds: 47.4%
Payout is 1:1

European roulette odds: 48.6%

American roulette odds: 47.4%
One of any of the three columns on the roulette table, i.e. 3-36

Payout is 2:1

European roulette odds: 32.4%

American roulette odds: 31.6%
The 1st dozen (1-12), 2nd dozen (13-24) or 3rd dozen (25-36)

Payout is 2:1

European roulette odds: 32.4%

American roulette odds: 31.6%
Before You Start Playing Live Roulette
Before you start playing live, we advise you to check out RNG tables. Although Roulette is technically a game of luck, the betting structure and odds can be a lot to digest. If you're going to challenge our dealers, it's a good idea to hit the table with experience in hand.
Different Types of Live Roulette Games
Casumo is packed with plenty of different Roulette variants and live games, so there's something to suit every type of player. Providing the best in online entertainment includes a range of limits, variants like Speed and European Roulette, and even different types of dealers and atmospheres. 
If you're looking for a hit list of top Live Roulette options, check out this list of the most popular titles so you'll know where to start when you head to the games lobby.
Lightning Roulette: RTP 97.30%
This is one of the most popular live roulette variants as it delivers multiplier gameplay and an "electrifying" game show studio ambience. Set in a black and gold Art Deco environment, Lightning Roulette offers standard roulette rules and bets but takes the luck element to new levels by adding Lucky Numbers (at the start of each round, between one and five Lucky Numbers are struck by lightning and given multiplied payouts of between 50x and 500x).
Quantum Roulette: RTP 97.30%
With an energetic Playtech dealer and slingshot wheel, Quantum Roulette offers standard European rules with a twist: straight bets are enhanced with random Quantum Multipliers that supe up the prize potential and atmosphere.
Mega Fire Blaze Live Roulette: RTP 97.30%
Mega Fire Live Roulette brings Roulette into the 21st century with a bonus round when the ball falls into a fire number on the wheel. Played with standard European rules, should you make it to the bonus round, jackpots are available along with multipliers up to 10,000x your bet. What's more, the Roulette wheel in this variant is spun by the dealer, not automated.
Live American Roulette: RTP 94+%
This is standard American Roulette but with a live dealer running the show and the double zero wheel, which edges up the house edge.
Speed Roulette: RTP 97.30%
Designed for players with fast-paced bets in mind, Speed Roulette delivers lightning-quick action with rounds that are 25% faster on average. 
First Person Roulette: RTP 97.30%
Not sure about going live straight off the bat? You're not alone, and this game is made just for you. Designed for more timid players, First Person Roulette allows you to play the automated RNG version of live roulette and click the "Go Live" button at any point to join the live dealer version.
If you're looking for something a little more exclusive, then head to the Casumo Live Roulette tables and meet our dealers first-hand.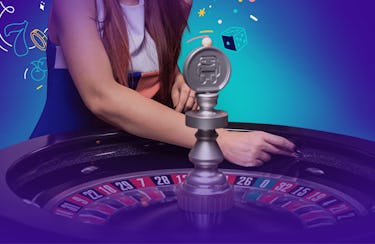 Choose one of our very own Casumo Roulette tables.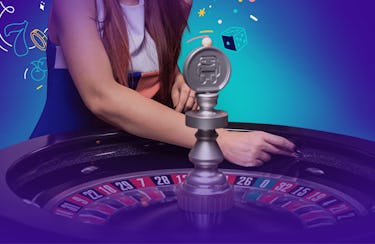 Enjoy the thrilling experience of our Live Casino with Blackjack, Roulette and more. Grab a seat. The next game is about to start.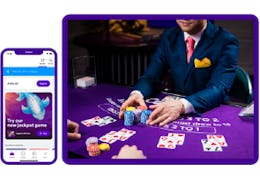 For a superior Live Casino experience on mobile.
Is there a minimum bet limit in live roulette?
How much does a '0' pay in live roulette?
What's the difference between online roulette and live roulette?
Can I play live roulette on mobile?